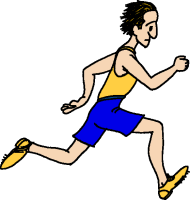 Mansfield Cross Country
7-12th Grade Men's and Women's Teams
2016 XC Season
Local Distance Duo
Setting Similar Goals
A year ago, the Mansfield Lady Tigers finished fourth in the team standings at the class 3A state cross country finals. Gone from that team were two of the group's top runners; Francesca Lionetti who returned to Italy through an exchange program, and Eden Jones who was unable to run this season because of an injury.
Consequently, this season Mansfield has had to rearrange its bouquet lineup. The group has relied mostly on the flowering pedals of returner Megan Rose. Last season's district champion, Rose was then and is now the only Lady Tiger to put up numbers equivalent to Lionetti and Jones.
Now, with less than two weeks to go in the regular season, Mansfield has found a bit more beauty to ascent its running arraignment.
Junior Corrina Wesley and sophomore Alyssa Berry have creeped a little closer to the grow light, and are making strides for the Lady Tigers. The distance duo of late have become more consistent performers for the MHS cross country team.
Settings personal goals to better themselves and ultimately their team, the pair of Tiger teammates are eerily similar in their approach.
"My goal is to reach the 25 minute barrier," announced Wesley. "That would be my best time, and it was last season's All-Star qualifier."
"I want to be under 25 minutes," claimed Berry. "I'm looking forward to the state meet but at the same time I'm really trying to qualify for the All-Stars."
From the looks of the last few meets, the pair are approaching their individual goals. Wesley posted a season best 26:53 at the Magazine Rattler Run on October 18. Berry went 25:53 a few weeks earlier.
"We really need these two to step-up," implored Mansfield head coach John Mackey. "Right now they have been our number two and three runners. For us to get close to last year's success, we need them to dig a little deeper and make those marks."
Wesley has been the surprise so far the last couple of outings. After making the difficult decision to end her volleyball career, the second year distance runner has been fully vested in the long distance sport.
"I wanted to get away from 30 minutes," reflected Wesley. "I've been able to spend more time training this year. I wanted to get closer to my PR (personal record 26:24.80)."
After becoming a full time runner part way through this season, Wesley has shaved six minutes off her time since the University of the Ozarks Invitational back on September 20. Knocking one to two minutes off her time in each of the last five events, the junior athlete upped her pace at the Rattler Run
"I started out faster than the last time," confessed Wesley as she explained the Magazine results. "I could tell by my strides I was going to be faster."
Wesley trimmed 2 minutes and 21 seconds off her 5K time from the Van Buren Classic to the Magazine Rattler. It was the type of progress that her coach was glad to see.
"Corrina has the tools to become one of more reliable runners," recognized Mackey. "I'm proud that she's pushing the pace and seeing the positive results.
Berry has been a little uneven so far this season. She has posted times ranging from 29:20 over the 5K distance to 25:45. A year ago as a freshman, the Lady Tiger runner found the inspiration to reach 23:59.20 at the South West Regional.
"Alyssa doesn't realize how good she can be," noted her coach. "She's got to realize she can push a little harder in the beginning. She has the build and length to be one of our best ever. I'd like to see her pace with Megan Rose."
From Van Buren to Magazine, the sophomore seemed headed in the right direction. The two consecutive results differed by 27 seconds towards the better. The Pointer race saw Berry post a medal achieving time of 26:55. The Rattler Run saw the lanky runner go 26:28.
"I bumped up my pace and continued to go faster," revealed Berry. "I tried to go faster throughout the entire race. Coach wants me to pace more off of Megan (Rose). I think that will help me reach my goal."
For Mansfield to finish strong in the post-season picture, Mackey believes Wesley and Berry will have to be primary colors in the print. According to their coach, the distance duo just need to reach their goals.
Corrina Wesley and Alyssa Berry take a cool down spin on stationary bikes after a four mile run at cross country practice.
Times Dropping for MHS Tigers
As Championship Week Looms
Mansfield's cross country team has shown marked improvement since the racing season began back in September. As evidenced at the Magazine Rattler Run on October 18, the stats show the Tigers are approaching readiness for championship week.
According to the results of the first Magazine meet to the most recent, both the men and women off the Mansfield Tiger distance roster showed signs they are getting faster. Data indicated that many MHS athletes improved anywhere from 14 seconds to as much as 3.5 minutes.
"The season is setting up for a strong finish," said Mansfield mentor John Mackey. "Most of our kids are really buying into workouts. The ones that have been staying the course are showing the most gains."
With the remaining schedule packed with championship contests, Mansfield must certainly be pleased that their collective times are dropping.
As of press time, the seventh grade members were to have run at the River Valley All Seventh Grade Challenge in Magazine on October 24. A quick turnaround was to have put the seventh through ninth grade runners in Van Buren for the River Valley Junior Championships on October 25. On Saturday, October 29 the junior high and senior high teams will host the 3A-4 District Championships at Mansfield.
"It's a good time of year," commented Mackey. "The temperatures have dropped somewhat, although it was hot on Tuesday, for better training days. It all leads to better times. It's up to each individual now to get through the mental part to be among the elite."
Count Mansfield's Megan Rose among the elite. The Lady Tiger junior cruised to a 21 minute 42 second 5K race at the Rattler Run. Although it was only fifth place at the race, her season best time moved her to number eight out of 171 ranked class 3A runners listed on the ar.milesplit.com rankings.
"Megan's motivated to get under the 21 minute mark," explained the coach. "That's what it will take to be an All-State athlete at Hot Springs."
Teammate Delilah McKusker cut her 5K time by 3 minutes and 28 seconds. Just a freshman, McKusker moved up to the senior high team a little over a week ago at the Van Buren Classic. Her second career 5K race ended with a 27:49 marking for 31st place overall.
Corrina Wesley, a Lady Tiger junior, cut 2 minutes and 21 seconds off her Van Buren time. The 26:53 measure was her best effort this season. It was good enough for 30th place.
Add Alyssa Berry's 26th position and Bree George's 44th spot, the Mansfield five collectively finished in third place overall in the team standings. Western Yell was first with Quitman taking second.
Lennon Woods off the junior high team cut her time by 14 seconds from the last time she ran the Magazine course about three weeks ago. The ninth grade front runner was 28th overall at 10:25 for the 1.5 mile distance.
Together, Mansfield's top five junior girl runners landed in eighth place in the team standings. Danielle Lillie (11:01), McKenzie Griffin (11:04), Jesse George (11:28), and Shelby Cole (11:40) joined Woods as the team's top five.
For the junior boys, Brandon Carver (9:19), Steven Perez (9:45), Dru Buckner (10:02), Levi Escalante (10:03), and Tyler Escalante (10:15) forged the Tiger team score. The crew finished 8th place overall. Four of the five marks were all faster times than previous recordings.
There were 119 junior boys in action at Magazine. The younger girls squad had 102 runners finish the race.
The Tiger senior boys did not have enough participants for a team score. Devon Pyles did remain as the school best's player with a 20:25 marking at the 5K distance. His newest post was 21 seconds faster than his last time out. He was number 27 out of 90 racers.
Mansfield's Luis Tomita ran 13 seconds faster than his last Magazine outing. His time was good for 30th place.
Megan Rose collected yet another medal for Mansfield's cross country team. Rose is the number 8 ranked class 3A runner in the state.
2015 XC Season – Recap
Lady Tigers win the conference meet again!
Megan Rose, Eden Jones, Alyssa Berry, and Francesca Lionetti all earn post season honors including River Valley All-Star status for the senior girls team. Devon Pyles off the men's team also earns RV All-Star status. The junior Lady Tigers won 3A-4 Runner-Up Trophy. Danielle Lillie, Makayla Strutton, and Bethany Redmon earn conference top-ten awards.
2014 XC SEASON - Recap
Award Winners:
3A-4 All-Conference: Meghan Brown, Fayth Schwartz, Kirsite Morrison, Mia Harper, Landan Reather, Tyler James, Alex Van Herpen.
Southwest All-Region: Mia Harper, Alex van Herpen.
River Valey All-Star: Mia Harper, Eden Jones, Megan Rose, Alex Van Herpen
XC Athletes of the Year: Mia Harper, Alex Van Herpen
Alex VanHerpen signs with Williams Baptist College in Walnut Ridge to run Cross Country
Tiger Trio's Last Trip... Mansfield seniors Alex Van Herpen and Mia Harper surround Coach Bill Frye as the Tiger trio wrap up their last cross country meet together. Frye will retire at the end of the school year. Van Herpen and Harper will graduate in May.
Mansfield River Valley All-Stars... Mansfield cross country runners Kourtney Weeden, Eden Jones, Alex Van Herpen, Mia Harper, and Megan Rose pose after the River Valley All-Star meet. The Tiger five competed as part of the last cross country meet of the 2014 season.
River Valley All-Stars... Displayed in front of the Magazine Rattler, members of the River Valley All-Star team enjoy a moment together at the conclusion of the 2014 cross country season.
Mansfield Women...Lady Tiger cross country runners gather neat the start of the class 3A State Championships on the infield of Oaklawn Park.
Mansfield Men...Tiger cross country runner's appear before the start of the class 3A State Finals on November 8 at Hot Springs.
Eye of the Tiger...Mansfield Lady Tiger cross country runners come into focus as the troop prepares for the 3A State Meet with a tune-up run at the Southwest Regional in late October.
Making It Count...Alex Vanherpen (left) cruised to a 17:41 personal best over the 5K distance at the Southwest Regional cross country meet for medal honors. Freshman Austin Brigham (right) and Devan Pyles (not pictured) also took awards for the Mansfield men's teams.
Junior Champs... Bree George, Megan Rose, Beverly Weeden, Alyssa Berry, and Kaylee Kendall take a moment with their conference championship plaque from the cross country 3A-4 district meet. Teammate Teagan McEntire is not pictured.
Winning Smiles... Lady Tiger cross country runners Fayth Schwartz, Kirstie Morrison, Kourtney Weeden, Meghan Brown, and Mia Harper are all smiles as they show off the 3A-4 conference championship plaque they won on October 25.
Tiger Men Take Plaque... Drew Peterson, Tyler James, Alex VanHerpen, and Landan Reather display the 3A-4 conference runner-up plaque from the district showdown on october 25. Te3ammate Colton Schulterman is not pictured.
Senior Close Conference Door... Mansfield cross country seniors Alex VanHerpen and Mia Harper are happy to end their conference careers with medals and plaques at the 3A-4 conference contest.
Rain Soaked Tiger...Mansfield Alex Van Herpen is covered in sweat, rain, and mud at the conclusion of the Greenwood 5K cross country race.
Lady Tiger Trio...Mia Harper, Kourtney Weeden, and Eden Jones savor their medal moment at the rain soaked Thrill on the Hill 5K in Greenwood.
Senior High Soaking...Members of the Mansfield senior girls cross country team enjoy the muddy fun produced by the rainy weather at Bell Park.
Leading the pack...Alex VanHerpen, Kourtney Weeden, and Eden Jones make it back to the cross country bus with medal rewards from the Rattler Run on October 25.
What a difference a day makes...Mansfield Lady Tigers Meghan Brown and Mia Harper show off this contrast in styles. THe pair go from being belles of the ball on homecoming night to the mud and grime of cross country the next morning.
Tiger Two...Devan Pyles and Austin Brigham make it another strong finish for the Mansfield junior boys cross country team at Greenwood.
First Place Winners...Mansfield's junior girls cross country team enjoy first place attentiong at Greenwood. Beverly Weeden, Kaylee Kendall, Breann George, Alyssa Berry, and Megan Rose combined for the first place plaque at Bell Park.
Five for Five...Mansfield cross country runners Fayth Schwartz, Mia Harper, Eden Jones, Kourtney Weeden, and Meghan Brown make a five medal haul at the Harvest Festival in Acorn on October 7th.
Mansfield Jr. Girls XC...Kaylee Kendall, Alyssa Berry, Beverly Weeden, Megan Rose, and Breanna George represent the Mansfield junior girls cross country team.
Mansfield Medal Men...Landen Reather, Alex Van Herpen, Devan Pyles, Austin Brigham, and Leighton Johnson win awards at the Harvest Festival cross country race on October 7th.
TIGER MEDAL TRIO...
Mansfield cross country runners Eden Jones, Alex VanHerpen, and Kourtney Weededn share a smile after their medal winning races at the Magazine Invitational.
Tiger Dynamic Duo...Alex Van Herpen and Eden Jones give a nod to the camera after collecting their second consecutive cross country medal from the Arvest Bank Invitational on September 23.
Junior Tigers Take Awards...Leighton Johnson, Devon Pyles, Austin Brigham, Alyssa Berry, and Beverly Weeden show the shine on their newly acquired cross country medals from the Arvest Bank Invitational on September 23.
---
2013 SEASON
---
Thirteen Mansfield runners take home medal prizes from the Acorn Invitational Cross Country meet October 7th.
---
Mansfield runners from Jr. Girls team enjoy medals from Acorn meet
---
Champions...Mansfield junior girls (l to r) Megan Rose, Audrey Walker, Eden Jones, Alyssa Berry, and Taylor Fuller show off the winner's plaque at the Greenwood XC meet.
---
Top 15 Medalist...Mansfield Junior Girls fill the top 15 medal stands as their team score secured the champions plaque at the Greenwood Invitational Cross Country meet.
---
Senior Lady Tigers...Mansfield Senior Girls (l to r) Elle Johnson, Becky Morris, Kourtney Weeden, Briana Wagner, Luisa Alvino, and Coach Bill Frye (back row) display the small school Runner-Up plaque at the Greenwood XC meet.
---
Congratulations to Eden Jones!!!
Eden earned third place overall at the Magazine Rattler Run on October 22.
---
Mansfield Medalists...Mansfield cross country runners Ben Fisher, Eden Jones, Kourtney Weeden, and Courtney Parish are pictured with their top-ten medals from the Rattler Run on October 22.
---
Junior Champs...The Mansfield junior high girls take home the Champions Plaque at the 3A-4 Conference cross country meet on October 26. Pictured are Emily Parish, Megan Rose, Alyssa Berry, Eden Jones, Audrey Walker, and Taylor Fuller.
---
Champions Again...Mansfield's senior girls cross country team take home the 3A-4 Conference Championship for the seventh consecutive season. Pictured are Courtney Parish, Mia Harper, Luisa Alvino, Becky Morris, and Briana Wagner.
---
Tiger Tough...Mansfield's Alex VanHerpen and Ben Fisher show off the 3A-4 Conference Runner-Up plaque on October 26. The MHS pair went one-two in the individual standings.
---
Fantastic Finish...This season's Mansfield Cross Country runners proudly display the 14 medals and 3 plaques they earned at the Lavaca hosted 3A-4 Conference Championships on October 26.
---
Mansfield Cross Country Runners take a pause in the action at the Southwest District meet on October 28.
---
District Medalists...Mansfield Cross Country runners Eden Jones (from left) Audrey Walker, Megan Rose, Courtney Parish, Landan Reather, Alex VanHerpen, Kourtney Weeden, and Alyssa Berry, display the Tiger flag at the Southwest District Championship on October 28. Each received top 20 medals.
---
Mansfield Lady Tigers Luisa Alvino (left to right), Courtney Parish, Kourtney Weeden, Elle Johnson, Mia Harper, Audrey Walker, Eden Jones, and Becky Morris get ready for the start of the 2013 State Cross COuntry Championships at Hot Springs on Novemeber 9.
---
Mansfield men Ben Fisher (left to right), Alex VanHerpen, Landan Reather, and Hunter Pyles prepare for the start of the class 3A State Cross Country Finals at Oaklawn Park in Hot Springs on November 9.